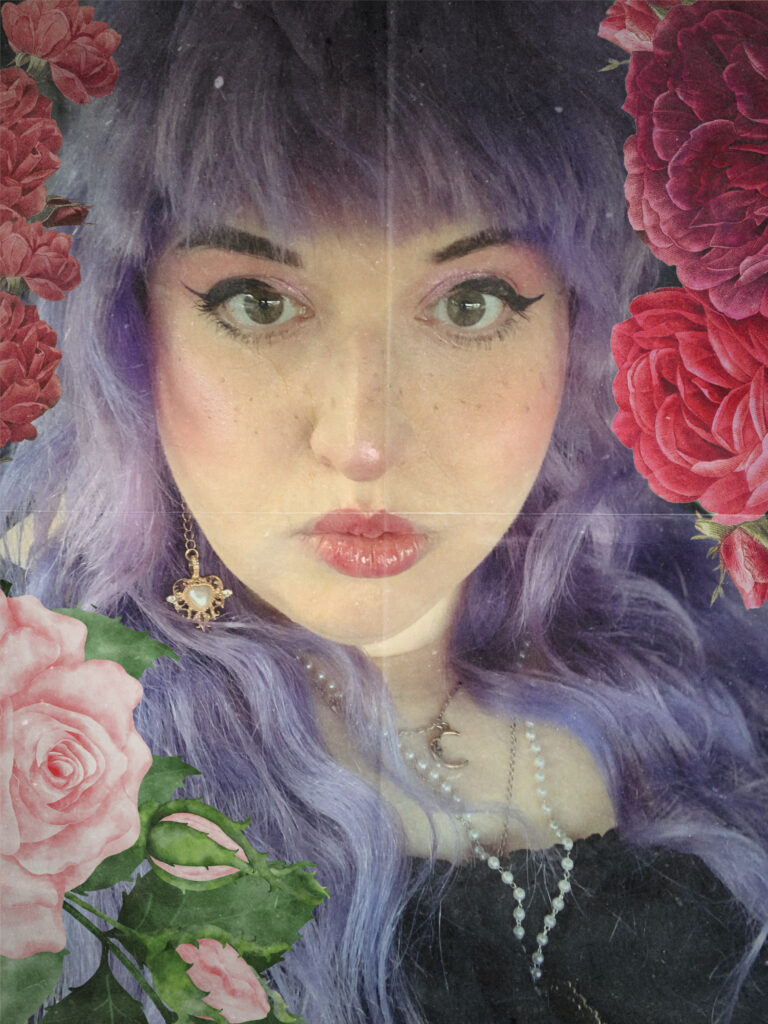 An Interview with Corwynn Rosewood
IV: If you could choose one magical item from All Vampires Are Gay and bring it into our world what would it be and why?
CRW: Oh goodness, that's a hard question! There are so many things I would love to have.  Probably the Helios Stone that Vasya uses in the Season One finale, I would absolutely love to walk through someone else's memories and share my own, that sounds incredibly cool.
IV: Do you have a favorite scene in All Vampires Are Gay?
CRW: I'm actually really excited about some scenes that haven't been released yet, but of the ones that are out probably the Farmer's Market scene in Episode 11. Not gonna lie, I love a good fan service episode, and I think Victor dealing with a Farmer's Market in the morning is absolutely hilarious.
IV: How do you get your ideas?
CRW: I like to think being a writer is a lot like being a magpie. I just collect things I think are beautiful or interesting as I go through life and file them away for later use. A good story is like a jumble of all of my favorite things, interesting experiences and people I've met.
IV: How do your plots come together? Do you do all your writing in front of your keyboard?
CRW: Oh no, not at all. I do a lot of writing in bed actually. Truthfully, I suffer from a good bit of anxiety and insomnia, racing thoughts, that sort of thing. Late at night when I can't fall asleep I occupy my mind by thinking about my stories. If I stumble across something good I'll just grab my phone and frantically type it into my notes app. I've actually written thousands of words this way!
IV: While we're talking about writing, what is the worst writing advice you've ever gotten?
CRW: It's pretty commonly suggested in the writing community that the best way to become a writer is to write every day, no matter what, usually trying to hit a word count like 1,000 words a day or something. I tried to force myself to do this for years and it was a huge problem for me, I absolutely hated it and it's not at all how my brain works. I felt like a failure because I couldn't write in this method and it really held me back for a while.
IV: Which character from All Vampires Are Gay is most similar to you? Would you and your main character get along?
CRW: Hahaha, oh man, well I don't know what this says about me but Victor is probably the most similar to me. I do believe we would get along with each other, we're both pretty unhinged. That said I'd also love to go shopping with Samson and Robert, and read books while drinking tea all day with Jinn.
IV: How did the show come about? Did you have experience in podcasting?
CRW: The idea came about from my love of writing and performing. I had been working on possible novel ideas for years, and then I just thought, why not make a podcast instead? Somehow it seemed easier to me than climbing Mt. Novel. It turned out to be incredibly hard but so worth it.
I had a little experience doing indie radio for music, and I also had on-camera experience in social media which helped a lot. I had no idea when I started just how much voice acting I'd be doing! Then I brought Parker Frost on to the project as a producer and to make the soundtrack and the rest is history.
IV: If you could meet one of your favorite fictional characters who would it be?
CRW: This is incredibly hard! I'm far too bisexual for this kind of decision, haha. I'll just say a few I would most like to meet – The Doctor, Uncle Iroh, Lin Beifong, The Aunts from Practical Magic, Crowley & Aziraphale, Rogelio De LaVega, Elle Woods. Yes, I think that would make a delightfully chaotic dinner party.
IV: The title of the show is very memorable, how did you come up with the title All Vampires Are Gay?
CRW: Well, they are, aren't they? haha. But seriously, I just really like the title because I think it tells you right at the beginning what the show is; a campy fun queer supernatural romp that doesn't take itself too seriously.
IV: Many audio dramas choose to tell their story with a full cast of actors in the radio play style, but you went a different route with narration and music. What was the reason behind that decision?
CRW: One of the things I love about podcasting is what an open space it is which allows for creator experimentation. There are no corporations telling us what we can or can't do, so I can just follow my instincts as an artist. Personally I love telling stories, I love talking to people and sharing ideas, and I love performing. Sharing my stories myself, with my voice, felt like the right way to tell them.
IV: What do you wish more people knew about podcasting?
CRW: I actually just wish more people knew about podcasting at all! I mean, most people know about podcasts but fiction/narrative podcasting is still pretty niche and think that's a shame. I would love to see so many more fiction podcasts, especially ones made by queer creators.
I also wish more people knew that podcasts are funded by fans, that we need support from our community to grow. Support your local podcasters folks!